SIMPLE
LADDERAIL™ is easy to install and simple to use.  Extend to middle position for use as a brace or fully extend for use as a handrail while the tool tray keeps everything within reach. 
Strong, compact, durable & weighs only 2.5 lbs.
Convenient top tool tray.
Fully retractable & adjustable.
Innovative telescoping design prevents seizing.
Durable latches allow for easy and safe operation.
Rust proof - Made from high strength 6061 T5 anodized aluminum & rigid glass filled nylon.
LADDERAIL™ Demonstration Videos
SAFE
Ladders are statistically the most dangerous household and workplace tool.  In just the US, 97.3% of the yearly average 500,000 ladder accidents requiring medical treatment, happen at home.  LADDERAIL™ is designed to help save limbs, ligaments and lives.  
LADDERAIL™ is a revolutionary safety device that went through years of prototyping and testing.
The brackets are made from a CNC machined one piece extrusion that is built to last.
Surpassed 230 ft-lb Cantilever Torque Test. (see test video)
As a safety product, we didn't rush to market and launched with the best possible version.
LADDERAIL™ Test Videos
SOLUTION
We know that slightly leaning into a ladder is the safest way to use one.  This is why the top rung warns "Do not stand on or above this level; you can lose your balance".
Make your ladder safer to use. With LADDERAIL™ you'll now have 3 adequate points of contact.
FITMENT GUIDE
Fits 3 ft to 12 ft Aluminum A-frame step ladders.
Fits 3 ft to 8 ft Fiberglass A-frame step ladders.
Securely attaches with ratcheting clamps and 3M VHB High Strength Permanent Acrylic Adhesive Tape.
Quick & Easy 1 Time Install.
Will fit all step ladders if retrofitted with stainless steel hose clamps or heavy-duty zip ties. See customer photos below.
LADDERAIL™ Installation Videos
LADDERAIL™ is OSHA compliant and will not void a ladders structural warranty; so it may be used as a handrail and convenient raised tool tray while complying with workplace safety regulations. 
Overreaching and looking up can lead to loss of balance if you're not well supported. LADDERAIL™ helps you stay balanced and keeps you between the side rails.
Every step ladder needs one because warning labels are often ignored; It's a simple solution to an age-old problem.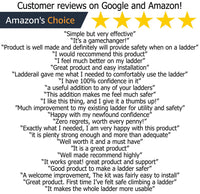 To learn more about LADDERAIL™, visit our Instagram or Facebook account and please follow us for updates. If you have any questions or comments, please email LADDERAILSAFETY@gmail.com or send us a chat message and we'll be glad to help.
BUY HERE ON AMAZON
<--- Testimonials --->
I'm a 67 year old man - The Air Conditioning returns in my house are in the ceiling, and the A/C filters need to be changed at least every 90 days. Even with an 8 ft step ladder, I was very uncomfortable trying to step high enough to reach the filter return. I purchased the Ladderail, and it is fantastic - probably literally a lifesaver. I am able to extend the Ladderail, and hold on as I get to the higher step to easily change the filter. I position the ladder so that I can hold on and lean forward into the Ladderail.

Barry Hahn, Florida
I'm a contractor I'm Toronto. Going up and down ladders is an everyday thing for me. The Ladderail made me feel more comfortable while working from the last step and the tray is a nice bonus.
I was originally skeptical of how sturdy and strong it would be but after setting it up and using for a few days, I have 100% confidence in it. Pretty awesome addition for any electrician, painter or GC like myself.

Luke Durward, Ontario
When I noticed the LaddeRail it seemed like something that could really be helpful to bring tools and even a bucket of paint to a useful level when standing on higher steps. It is certainly that, but once it arrived and I started installation it became clear how well designed and built the product is. It adds next to no weight to the ladder but ends up firmly and securely attached. When you are on higher steps it provides something to lean against, so you maintain your balance and awareness of where you are on the ladder. So far, we have ordered three of them and can recommend the LaddeRail as a useful addition to any of your ladders.

Dan Beggs, Michigan
I use a 6' ladder to water plants on a 9' ledge. I have often felt unstable when doing so I decided to give Ladderail a try. I found the product to be made of high quality materials. The instructions were clear and easy to follow. I was able to assemble and instal Ladderail on my ladder in less then 10 minutes. The attachment mechanism, including 3M tape and ratcheting brackets, creates a solid connection between Ladderail and the ladder. The first time I used the Ladderail and ladder to water my plants I noted a significant improvement in my stability. The Ladderail provides a strong handrail that allows for three points of contact while leaving one hand free to complete your tasks. The top tool tray is convenient for holding small tools and materials. I would recommend this product.

Lisa Lester, Alberta
Well designed. Fits my Werner 4 ft fiberglass very well. Nice added tool tray along with the one already on the ladder gives many tool storage options. Sturdy and balance when I need it, and even if I don't, it's nice to know it is there. Ladder stores in same amount of space. Easy to extend and retract. Simple but very effective.

Dan Aubrey, Michigan
Decided this was a good idea the first time I saw any information on it. The price is lower than I expected. Would have paid more for it and been okay with it. Our house was built in 1921, and has 10 ft. ceilings. Wasn't crazy about getting so high up on the stepladder with minimal support to change light bulbs, etc. I'm almost 70. My balance isn't quite as good as it was 30 or 40 years ago. The Ladderail is very elegant and functional, easy to install and use. I really like the additional peace of mind it provides with tasks that were previously precarious without it. After using it several times, I'm completely happy with the attachment to the ladder. It's nice to get up high on the ladder with peace of mind. I'm not shilling for Ladderail, I paid full price like everybody else. I wish some of my other purchases were money as well spent. I put off reviewing the Ladderail at first, wanting to get some actual experience with it. Now I can give it a good review with a clear conscience. Make your own judgment, but here is my opinion.

Lee Porter, Louisiana
Really happy with this product. I have an old 10' ladder and 14' ceilings so changing my lights was a little uncomfortable. Not anymore with the ladderrail. The way that it attaches to the ladder is really sturdy and I felt really good leaning against it to do the job.

Melissa Morrison, Washington
Purchased one about a month ago and couldn't be happier. Safetly allows me to get high at work. Great product and easy installation. Thanks for the great ladder addition.

Andrew Luciani, Ontario
I just installed your product and it's a keeper for sure. I'll be buying more for myself as well as family and friends. Having been in construction for more years than I like to remember safety has always been very important to me. Looks like your product will certainly help with step ladder safety.  I sure looked forward to receiving and using it.

JCM, Upstate New York
Will it fit?
LADDERAIL™ will not fit on platform ladders or step stools with tubular rails. Please check your ladder to be sure.